Attack on Titan Season 4 Episode 3 Summary
Attack on Titan Season 4 Episode 3
Attack on Titan (Shingeki No Kyojin) Season 4 Episode 3 is entitled The Gateway (Door) to Hope. This episode focused on the struggles of Reiner from his childhood until his return to Marley after the decisive battle in Paradis.
SPOILER ALERT
If you haven't watched the anime or read the manga and don't want to be spoiled, be warned.
Attack on Titan Season 4 Episode 3 Summary
Episode 3 starts with young Reiner and his mom were talking how his father left them because they were Eldians. With this in mind, Reiner pushed hard to join the warrior corps to become an honorary Marleyan for his father.
The time drew closer for Marley officials to choose six among the seven children who will receive the titan powers. Reiner was the weakest amongst the candidates and Porco teased him that he will be the one left out. Reiner got mad and picked a fight with Porco accusing him of being an Eldian restorationist. In his anger, Porco punched Reiner, who fell face flat on the ground. The children went away leaving Bertholdt who encouraged Reiner, telling him they don't get to decide who will inerit the titans.
A few years later, the Marleyan army finally chose the six except Porco to inherit the titans. Outraged by the situation, Porco tried to punch Reiner again but this time Marcel stopped him telling him that this may be considered insubordination. Marcel apologized to Reiner but it appears it was not because of Porco trying to punch him.
Before leaving for their mission, Reiner met his father but got rejected despite becoming an honorary Marleyan. He was accused of plotting to bring disgrace to him by associating with Eldians and threatened to run away. Despite feeling anxious, Reiner still pushed forward so he can be acknowledged as a hero who will save Marley.
Reiner's Mission
The four titan shifters – Reiner, Marcel, Annie and Bertholdt arrived in Paradis to pursue their mission to regain the Founding titan. The night before reaching the wall, Bertholdt vented out his doubts regarding their mission. He was unsure if they will succeed after destroying the wall and whether the king will use the founding titan to supress them. Then, Marcel apologized to Reiner for putting him up to the officials to acquire the armoured titan just to save his brother.
Out of the nowhere, a menacing mindless titan Ymir appeared with an intent to eat Reiner. Marcel was quick to react to protect him but got eaten instead. Frightened to death, Reiner ran as fast as he could leaving his companions behind. Annie and Bertholdt finally caught up and told Reiner that the titan who ate Marcel may have already changed back to its human form.
Annie was disappointed on the incident and suggested to abort the mission. She insisted that they find the titan quickly and return to Marley but selfish Reiner persuaded them to continue the mission to break the wall. On that fateful day when the Colossal Titan broke wall Rose, they finally succeeded the infiltration. Two years later they eventually joined the cadet corps with Eren. During this time, Annie tried to gathered intel on the whereabouts of the founding titan whilst Reiner unknowingly got absorbed in his pretensions with the other trainees. This caused Reiner to doubt if the people in Paradis are really the devil.
Falco and Eren
Flashback ends with Reiner trying to end his life with a gun but was interrupted by Falco banging his fist in the wall out of desperation. As Falco heads home, he passed by the hospital and saw the one legged long haired guy from the train station. Falco blurted out his frustration of being too weak and not being able to protect Gabi from inheriting the titan. The long haired guy then elaborated how people keeps on pushing forward despite their circumstances not knowing if it is hope or another hell that they are chasing. Then the episode ends with the long haired guy showing his eyes in what appears to be a grown up Eren.
Episode 4 Will air December 28th entitled "From hand to hand"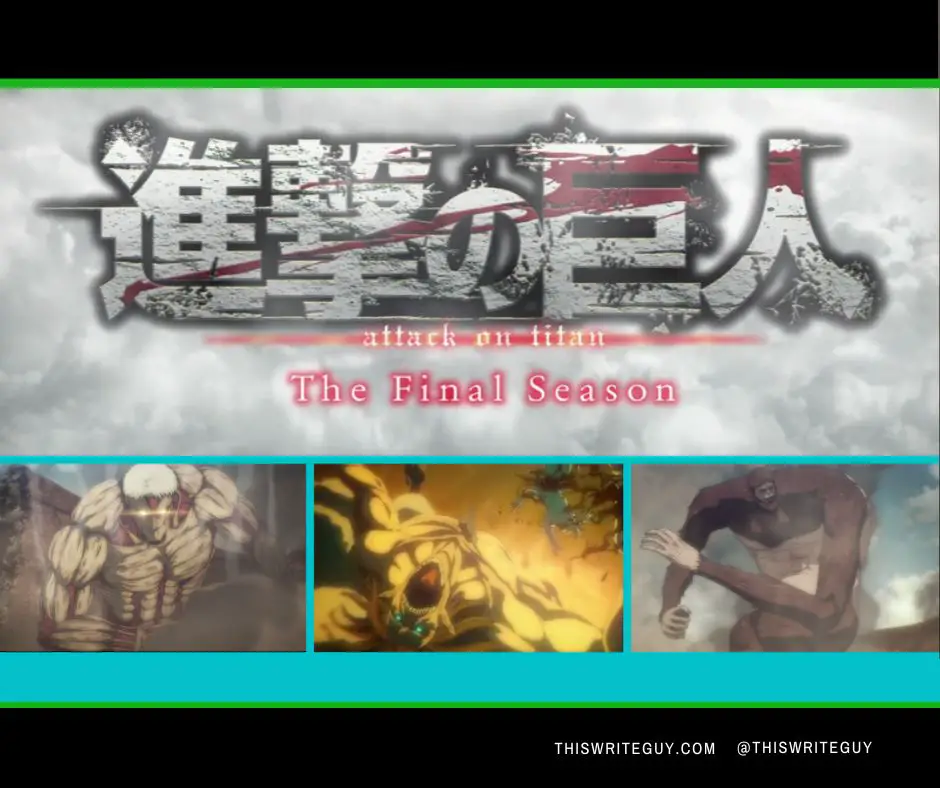 Attack On Titan (Shingeki no Kyojin) Season 4
Part 1 Episode List
| Episode | Air Date |
| --- | --- |
| Episode 1 | Dec 7, 2020 |
| Episode 2 | Dec 14, 2020 |
| Episode 3 | Dec 21, 2020 |
| Episode 4 | Dec 28, 2020 |
| Episode 5 | Jan 11, 2021 |
| Episode 6 | Jan 18, 2021 |
| Episode 7 | Jan 25, 2021 |
| Episode 8 | Feb 1, 2021 |
| Episode 9 | Feb 8, 2021 |
| Episode 10 | Feb 15, 2021 |
| Episode 11 | Feb 22, 2021 |
| Episode 12 | Mar 1, 2021 |
| Episode 13 | Mar 8, 2021 |
| Episode 14 | Mar 15, 2021 |
| Episode 15 | Mar 22, 2021 |
| Episode 16 | Mar 29, 2021 |
Attack On Titan (Shingeki no Kyojin) Season 4 Part 1 Episode List
Part 2 Episode List
| Episode | Air Date |
| --- | --- |
| Episode 1 | Jan 10, 2022 |
| Episode 2 | Jan 17, 2022 |
| Episode 3 | Jan 24, 2022 |
| Episode 4 | |
| Episode 5 | |
| Episode 6 | |
| Episode 7 | |
| Episode 8 | |
| Episode 9 | |
| Episode 10 | |
| Episode 11 | |
| Episode 12 | |
| Episode 13 | |
| Episode 14 | |
| Episode 15 | |
| Episode 16 | |
Attack On Titan (Shingeki no Kyojin) Season 4 Part 2 Episode List